Exposure
Management​​
Know where and how an attacker can succeed.
Take action to prevent it.​
What is Exposure Management?​
Exposure Management is the ongoing process of discovering attack surfaces, quantifying risk levels, closing
security gaps, and preparing for incident response.​ This process goes beyond reactive cybersecurity
methodologies to examine both how the organization can respond to an attack and how an attack can be
prevented.​ The Cymulate Platform supports Exposure Management by discovering attack surfaces, analyzing
attack paths for viability, assessing the effectiveness of security controls to avoid exposure, and simulating
incidents to gauge response effectiveness. ​
`
Why Cymulate for ​Exposure Management
Scalable
Scalable
Grows with the organization, from ASM to attack simulation and from on-prem to Cloud and hybrid​
Extensive
Extensive
Tools for attack surface discovery and analysis, threat activity simulation, and integrations with security tools and controls​
Comprehensive
Comprehensive
Hundreds of thousands of out-of-the-box simulations combined with full customization and automation​
Easy
Easy
Straightforward to set up and customizable; with non-disruptive methodologies to assess directly in production ​
Cymulate ​Exposure Management​ Benefits
More Than Scanning​
Cymulate provides vulnerability scanning as part of Attack Surface Management, but goes far beyond this one technique ​for
identifying and quantifying potential exposure risk​

Discovery
Define attack surfaces​

Scanning
Confirm viable attack paths​

Assessing
Prove risks and strengths​
Environments
Effective Exposure Management takes into account assets and systems in all areas of the organization,
including the platforms they use and the data they store​
On-prem and Cloud
Windows/Linux/Mac​
AWS/Azure/GCP​
Hybrid Environments​
Applications and Networks​
Public Facing
Internal
Shadow IT​
Data​
Open File Shares
Cloud Storage
Databases
Capabilities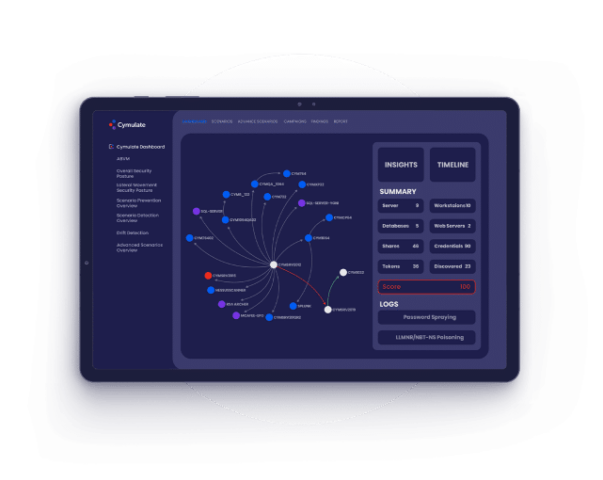 Vulnerability Management​
Scan for vulnerabilities in discovered assets​
Identify Shadow IT, new public-facing platforms, and more
Discover paths and risks: on-prem, Cloud, and hybrid ​
View attack path mapping to prioritize remediation​
Leverage remediation guidance for corrective actions​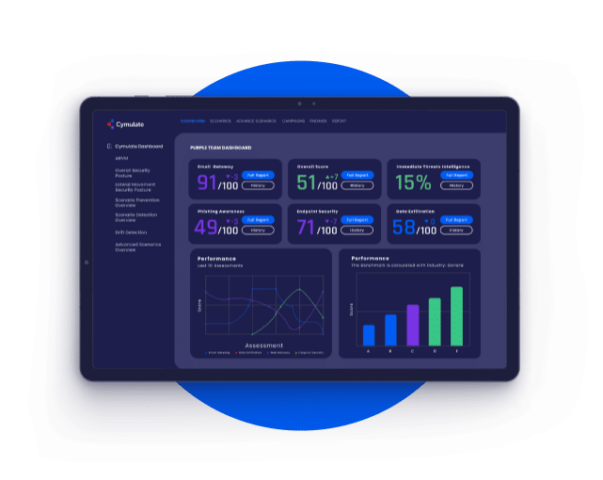 Attack Surface Management​​
Identify assets on-prem, in the Cloud, and hybrid​
Visualize internal and external attack surfaces ​
Discover shadow IT and unmanaged systems​
Scan for vulnerabilities and misconfigurations​
Map potential attack paths for testing
Report based on industry standard frameworks​
Quantify risk of exposure with trackable scoring​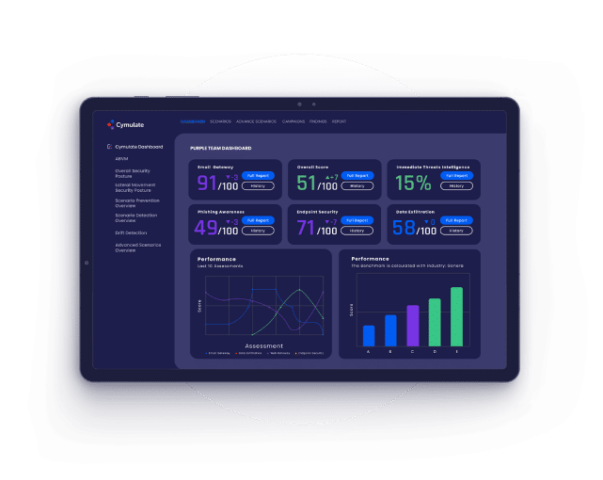 Breach and Attack Simulation​​​
Use real-world threat methods, safely​
Full customization wherever necessary or desired​
Assess frequently and automatically​
Continuously updated with new threat activity​
Coverage of the entire Cybersecurity Kill-Chain​
Integrations with endpoint security, SIEM and others
Confirm gaps and measure security control response​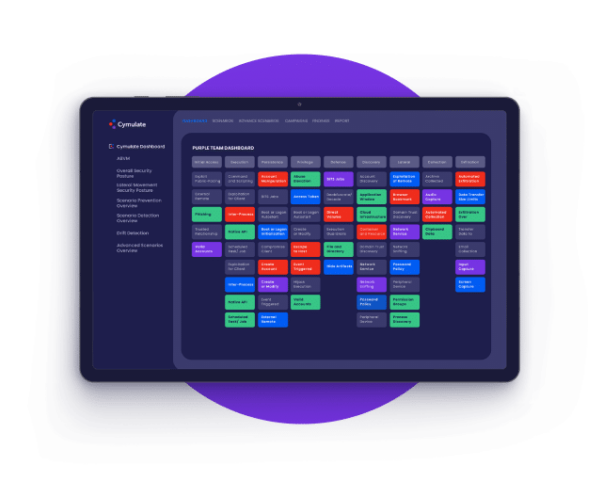 Continuous Automated Red-Teaming​​​​
Use data from ASM and BAS to identify attack paths​
Examine response to threat activity from start to finish​
Determine where controls can be strengthened​
Prepare for the handling of exposure events​
Analyze impact of risk against business priorities​
Leverage remediation guidance to implement changes​
Automate re-testing to confirm effective mitigation ​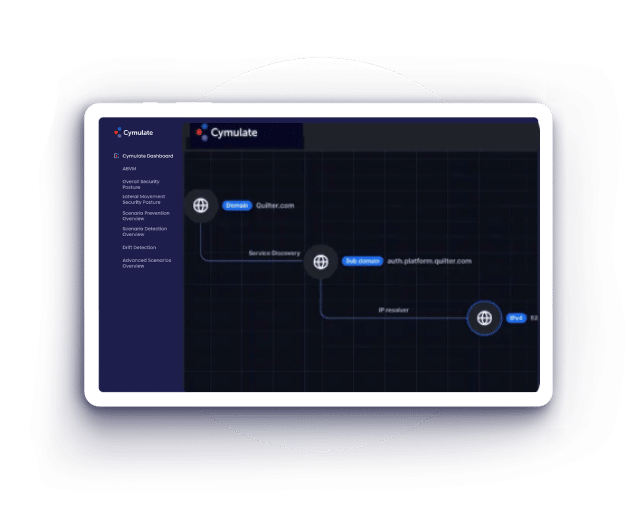 Reporting and Remediation​​​​
Dynamic Dashboarding to identify areas of changing risk​
Technical deep-dive reporting​
Remediation Guidance at each step of the process​
Executive reporting for business stakeholders​
Tracking current efficacy and drift over time​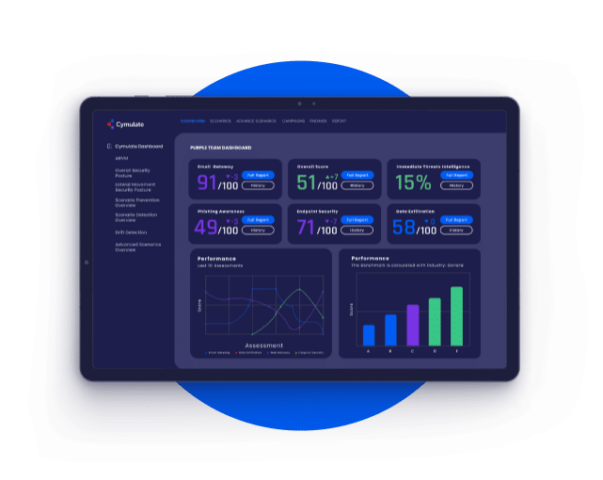 Leverage the Entire Cymulate Platform​​​​​
Vulnerability scanning to find exploitable assets​
ASM to discover and map attack paths​
BAS to assess security controls​
CART to perform attack path validation​
Easy automation for ongoing exposure management​
Integrates with other security tools​
Technical and executive-level reporting​
Remediation guidance at every step​
Backed By the Industry

Named Distinguished Vendor
by Tag Cyber
Cymulate Named Innovation Leader in the
Frost & Sullivan's Frost Radar™️
Trusted by Security
Teams Across the Globe
Organizations use Cymulate to get immediate
actionable insights on their security posture.
They choose Cymulate to manage, know,
and control their dynamic environment.
The GARTNER PEER INSIGHTS Logo is a trademark and service mark of Gartner, Inc. and/or its affiliates and is used herein with permission. All rights reserved. Gartner Peer Insights reviews constitute the subjective opinions of individual end users based on their own experiences and do not represent the views of Gartner or its affiliates.