Establish and
Track KPIs​
Measure, track, and control cybersecurity ​
performance and overall threat exposure.​
Generic Baselines Are No Longer Enough​
The lack of standardization in cybersecurity metrics and benchmarks make it difficult to establish​
a common baseline for KPIs. The dynamic nature of cybersecurity means that KPIs must be constantly​
updated and adjusted to remain relevant. Different organizations may have varying definitions of what​
constitutes a secure environment; and different business priorities and risk tolerance levels.​
​​Aligning cyber KPIs with the overall business strategy requires defining, quantifying,​
and updating those KPI's. ​​
`
Challenges to Establish and Track Security KPIs​
Lack of Quantified Benchmarks
Lack of Quantified Benchmarks
KPIs based on general industry standards do not take business needs into account​
Lack of Visibility
Lack of Visibility
The complexity of modern security stacks makes it challenging to evaluate the effectiveness of current and future investments
Communication Barrier
Communication Barrier
Translation of technical metrics and outcomes into general business language can pose unique challenges​
Balancing Security & Business
Balancing Security & Business
Business processes and operational necessities can have significant impact on security KPIs​
Cymulate for Establishing
Cybersecurity KPIs
Risk scoring based on simulated attacks provides a validated,
quantified, and asset-mapped evaluation of an organization's
threat exposure and tool stack efficacy.​​
Attack-based risk analysis identifies gaps in detection and
policy enforcement and accelerates incident response
blueprinting.
​​With clear visibility, monitoring exposure over time facilitates
balancing security and business priorities. ​​
Establish and Track KPIs with Flexible, Quantifiable Metrics​
Benefits of Using Cymulate To Establish and Track KPIs​

Visibility
Executive and technical reporting leading to evidence-based discussions and decision making​

Optimization
Benchmark and trend cybersecurity performance to prove continuous improvement

Validation​​
Confirm that KPI motion is leading toward resilience and compliance​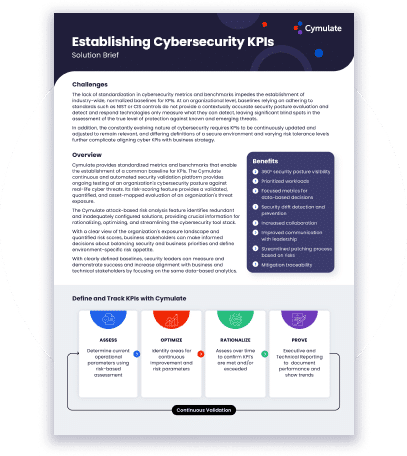 Establishing Cybersecurity
KPIs For Continuous
Improvement

Overview of Cymulate performance tracking and benchmarking
Read More
Backed By the Industry
In Security it's almost impossible to estimate a Return of Investment or even a cost-saving number, but it's crystal clear that we have optimized our resources by using Cymulate.​​
Daniel Puente, CISO of Wolter Kluwer​
Trusted by Security
Teams Across the Globe
Organizations use Cymulate to get immediate
actionable insights on their security posture.
They choose Cymulate to manage, know,
and control their dynamic environment.
The GARTNER PEER INSIGHTS Logo is a trademark and service mark of Gartner, Inc. and/or its affiliates and is used herein with permission. All rights reserved. Gartner Peer Insights reviews constitute the subjective opinions of individual end users based on their own experiences and do not represent the views of Gartner or its affiliates.
Related Resources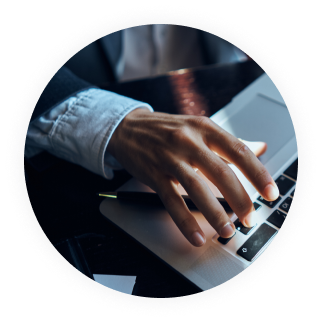 ebook
15 Ways Cymulate Increases Cybersecurity ROI
CISOs and SOC leaders are often sorely lacking in specifics and metrics to prove cybersecurity ROI.
Read More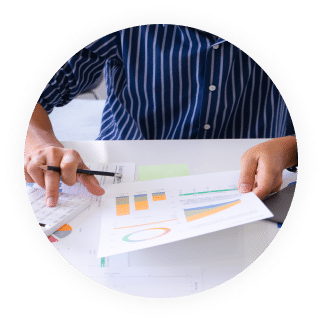 whitepaper
Four Cybersecurity Essentials for the Board
We understand that explaining your organization's security strategy to a non-technical audience can be challenging.
Read More
video
ISIO Hardens its Security Posture with Cymulate
Pension management and consulting services firm, ISIO, is responsible for 600 employees across the country with hundreds of clients.
Watch Now