End-to-End Enterprise Cyber-Risk Management
Provide Security Operations the visibility they need to focus on the critical issues and protect the organization. Make
purple teaming a daily practice by putting the adversary in the hands of the SOC for continuous improvement.
Security Operations
Continuously monitor and improve the organization's security posture
Prevent, detect, analyze and respond to cybersecurity incidents
Prioritize Patching
Identify attackable vulnerabilities to prioritize patching
Health Checks
Automate health checks and security assurances
QA Policy, Configuration, and Software Updates
Validate security operational effectiveness after changes to the security infrastructure
Attack Surface Management
Know what an adversary can discover and e aware of changes to assets, vulnerabilities and risk
Alert Investigation and Escalation
Validate and optimize EDR detections and SIEM alerts based on attacks
Proactive Threat Hunting
Launch APT simulations to exercise pro-active threat hunting
Incident Response
Simulate incidents to practice incident response playbooks
Asses Threat Intelligence
Launch threat intelligence led assessments updated daily to the platform
Benefits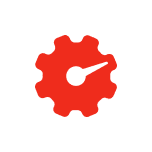 Increase Efficiencies
Technical and executive reports delivered within minutes.
Optimize Detections
Find all possible ways an adversary can breach a network, not just one.

Upskill the Team
Continuous Security Validation for ongoing improvement. Essential to confront the dynamic threat landscape.
Operationalize Threat Intelligence
and the MITRE ATT&CK Framework
To continuously challenge, assess and optimize security operations.
MITRE ATT&CK
Implementation

Threat Intelligence
Assessments

Custom
Scenarios
Attack simulations
IT, Cloud, and Security Infrastructure
Logs
SIEM
SOAR
Correlated
Findings
via API
SIEM/SOAR optimization
Cymulate
Portal
Output
Custom SIEM
Queries
Sigma Rules,
IoCs and IoBs
Detection and
Mitigations Guidance
Custom SIEM
Queries
Sigma Rules,
IoCs and IoBs
Detection and
Mitigations Guidance
SIEM/SOAR optimization
Output
SIEM
SOAR
Correlated
Findings
via API
Cymulate
Portal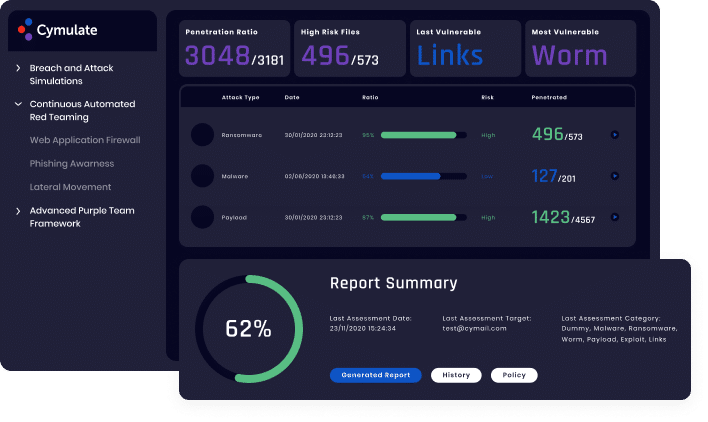 Check Your Security
Posture Now
*Minutes to set up
*No credit card required
Free Trial