Cymulate
Attack Surface​
Management (ASM)​​
Discover vulnerabilities and misconfigurations to identify assets
exposed to unapproved access, exploits, and other attacks​

Continuously Identify, Scan & Map Internal & External Assets to Assess Risk
Attack Path Mapping​
Map potential attack paths across networks, cloud platforms, and
identity systems – including Active Directory services​
Internal Attack Surface Management
Identify vulnerabilities and exploitable assets that create exposure 
risk
External Attack Surface Management
Emulate reconnaissance and probing methods of threat actors to map
the external attack surface – including the dark web for organization-
specific threats
Benefits of Cymulate Attack Surface Management

Comprehensive Visibility​​
Visualize gaps & weaknesses in the entire infrastructure, on-prem & in the cloud

Unified Attack Path Mapping & Analysis​​​​
Put information into context for a better view of strengths and gaps

Mitigation Prioritization​
Target remediation to close gaps to critical systems, resources, and data

Risk Scoring​​
Track and trend risk scores for continuous improvement and benchmark against peers
Capabilities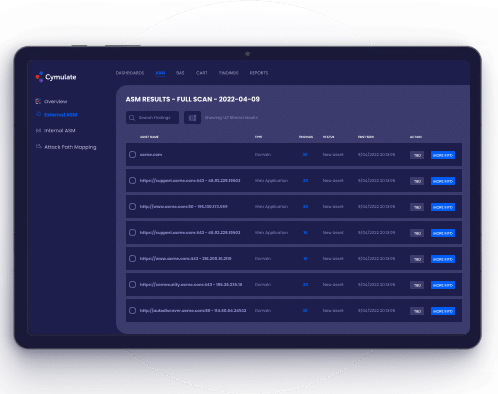 Internal & External
Asset Discovery​
Scan on-prem, cloud, and hybrid infrastructures​
Identify visible systems, applications, interfaces, and
domains​
Automate scans without survey-based auditing​
Re-scan regularly to catch new issues​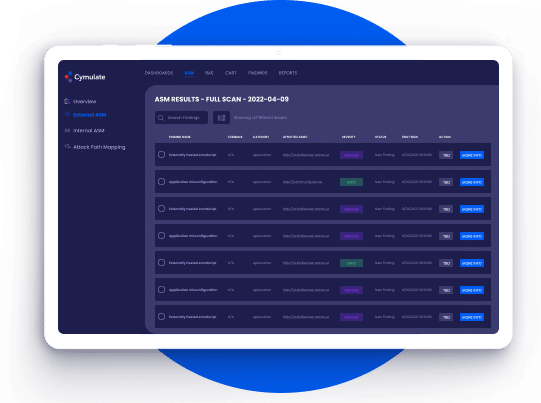 Vulnerability, Misconfiguration
& Dark Web Scanning
Probe frameworks, libraries, services, and applications​
Identify CVEs, phishing domains, potential data
exposure, and more
Find misconfigurations, over-provisioning, and other problems​
Scan domains, subdomains, IPs, ports, clouds, configurations,
devices, and privileges ​
Search the dark web for sensitive information and indicators of
data leaks and cyber attacks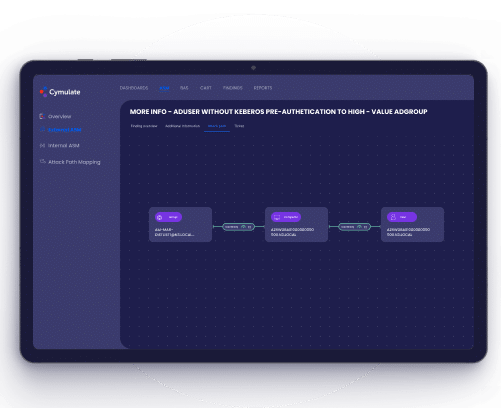 Unified Attack Path
Mapping and Analysis​
Map viable attack paths across networks, cloud,
identity systems, and Active Directory services ​
Quickly identify security gaps and map how
threat actors can exploit them ​
Prioritize high-risk attack paths by degree of
exploitability​
Actionable Reporting​
​Ongoing reporting for drift detection and remediation
guidance​
Graphically map attack information​
At-a-glance view of top attacks, assets, and findings​
Deep technical detail for drill-down​
Findings mapped to the MITRE ATT&CK® tactics,
techniques, and procedures​
The Cymulate Exposure Management and Security Validation Platform ​​
Cymulate Attack Surface Management is available both as a standalone SaaS offering and as an
integrated offering within the Cymulate Exposure Management and Security Validation Platform. ​​
Environments
Cymulate provides extensive coverage of on-prem and cloud environments to identify vulnerabilities and misconfigurations with attack path maps for each security gap.
On-premises
Internal systems
Legacy applications
User networks
Cloud
IaaS
Containers
Serverless / APIs
Hybrid
Remote Workers
Shared Services​
Cloud Storage
`
Cymulate Continuous Automated Red Teaming
Scalable
Scalable
Automated testing to reduce repetitive, labor-intensive manual tasks and increase productivity​
Extensive
Extensive
Network pen testing, phishing awareness, and full kill-chain campaigns​
Comprehensive
Comprehensive
Supports automated testing for vulnerability validation, what-if scenarios, targeted, and custom testing​
Easy
Easy
Deploys with ease, customizable, and runs ongoing non-disruptive assessments​
Backed By the Industry

95% OF BAS Reviewers Recommend
4.8/5 Rating for Breach and Attack Simulation (BAS) Tools
Learn More

Cymulate Recognized as Top Innovation Leader
Cymulate Named Innovation Leader in the Frost & Sullivan's Frost Radar™️
Learn More
Jorge Ruão | Head of Security Operations, Euronext,

"As Euronext's cybersecurity team, we know that cybersecurity is always a work in progress. Cymulate allows us to fill a gap that for a long time was not closed directly, but only indirectly with other security controls. We recommend anyone looking for a breach and attack simulation platform turn to Cymulate."
Avi Branch | IT Support Technician,
Brinks
"I believe that no matter what is the team size we have, we will always have a backlog of projects and tasks. Cymulate helps us to prioritize them and focus on issues that carry the most risk for the business, this has increased our effectiveness, we aren't wasting valuable resources. Furthermore, I can present to our executives a return on security investments by showing them how each project has reduced our risk score."
Karl Ward | Lead Security Operations Analyst, Quilter,

"Many times, our CISO or senior members would come to security operations after reading about a new threat or APT group in the news, asking are we at risk? Cymulate enables us to answer quickly and confidently with the Immediate Threats module and attack simulations."
More Customer Stories
Attack Surface Management FAQs
ASM is the ongoing process of discovering points within data systems that could be used to attack the organization (servers, applications, services, cloud components, workstations, etc.) and defining and implementing remediation strategies to address gaps.
Cymulate ASM is designed to meet the needs of businesses of all sizes and industries. The platform provides organizations with comprehensive visibility into their digital assets and potential vulnerabilities. Cymulate ASM uses automated scanning to identify potential attack vectors within on-prem, hybrid, and cloud environments and provides real-time insights and recommendations for mitigating risk. This helps businesses proactively manage their attack surface and reduce their exposure to cyber threats.
Cymulate ASM can identify vulnerabilities and misconfigurations in internal and external systems, such as cloud-based systems, web applications, vulnerable third-party software, remote access systems, and email systems. It can also discover shadow IT, unmanaged assets, and access control issues that could create attack vectors for cybercriminals.
Traditional EASM platforms focus only on external threats, while Cymulate ASM offers a more comprehensive and efficient approach to attack surface management with both cloud and on-premises assets. The platform goes beyond vulnerability scanning to discover misconfigurations and attack surfaces, aiding in prioritizing vulnerabilities and gaps that threat actors can use for more effective and efficient remediation programs. Additionally, Cymulate ASM's unified attack pathing for both cloud and on-premises provide an additional layer of understanding the probability of different security breaches.