Improve Your Bottom-line
Making Cymulate part of your business delivery model, MSSPs can:
01
Manage multiple tenancies with ease
02
Scale operations as organizations expand
03
Provide multiple offerings with
at-scale capabilities
`
Why Partner with Cymulate?​
Cymulate was built with MSSPs in mind and provides many benefits and use cases
Generate Additional Recurring Revenue
Generate Additional Recurring Revenue
Enable new offerings such as:
Misconfigured technology
Ineffective processes
Lack of control coverage
Exceed SLAs
Exceed SLAs
Always test and finetune:
Improving the effectiveness of detections & alerts
Reducing MTTD and MTTR
Improve Customer Satisfaction
Improve Customer Satisfaction
Demonstrate value by being proactive
Reduce churn
Establish a competitive advantage
Create Customizable Dashboards
Create Customizable Dashboards
Select data per client, or group of clients
Present data in various formats, in a few clicks
Visibility Across the Full Cyber Kill Chain
Assure daily the operational
effectiveness of your security stack
that protect your IT environment,
cloud initiatives and critical data
against threat evolutions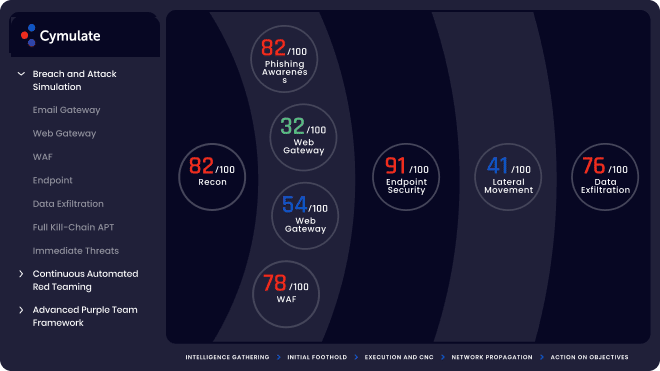 Schedule 1:1 Demo
Cymulate MSSP Program
Overview
The Cymulate Partner Program is designed to establish
and support long-term, mutually profitable partnerships
with security-focused solution providers committed to a
world where cybersecurity teams have confidence and
transparency in demonstrating their ability to stop cyber
threats.
Read the Overview
Trusted by Security
Teams Across the Globe
Organizations use Cymulate to get immediate
actionable insights on their security posture.
They choose Cymulate to manage, know,
and control their dynamic environment.
The GARTNER PEER INSIGHTS Logo is a trademark and service mark of Gartner, Inc. and/or its affiliates and is used herein with permission. All rights reserved. Gartner Peer Insights reviews constitute the subjective opinions of individual end users based on their own experiences and do not represent the views of Gartner or its affiliates.