We are thrilled to share that Cymulate has received market-leading recognition as a category leader in the Frost Radar™ Breach and Attack Simulation 2022 report for the second consecutive time.
The Breach and Attack Simulation (BAS) market is predicted to grow at a CAGR of 38.5% between 2021 and 2026 and is forecasted to generate an estimated $709 million in revenue. The accurate and fact-based security resilience evaluation performed by BAS tools answers CISOs' emerging mandate to prevent business interruptions or downtime. They are also being asked to answer on-demand questions such as, "Are my security controls working as designed?", "Can this new threat breach our defenses?", "How bad is it?", and "How do you know?".  Many insurance companies are also now requiring businesses to validate diligence in their cyber defenses. Simulated attack simulation provides continuous and automated testing, which allows security teams to go deeper and wider and to conduct assessments more frequently than periodic manual or Red Team testing.
The Frost Radar™ Award evaluates companies based on their focus on continuous innovation and their ability to translate innovation into consistent growth. The need for in-depth continuous security validation coverage and the rapid adoption of BAS tools in 2021 were both used as factors in the report.
Frost Radar analysis criteria–innovation scalability, R&D, product portfolio, mega trends leverage, and customer alignment – are aligned with Cymulate core pillars.
Cymulate delivers the visibility required to validate security program effectiveness, optimize security controls and process policies, and rationalize requests for additional budget or headcount. The quantified risk evaluation based on hard facts bridges the communication gap between business leaders and tech teams that too often results from the lack of concrete, reliable cybersecurity performance assessment.
Cymulate's strength in innovation is a key factor behind Frost Radar™ recognition as a Breach and Attack Simulation (BAS) market leader. Cymulate is the only BAS solution with modular capabilities enriching BAS core security controls validation functionalities, including red team capabilities – such as Attack Surface Management (ASM), phishing awareness, lateral movement, and purple team framework. It is also the only one integrating in-context adversarial capability into its unique vulnerability prioritization technology, Attack Based Vulnerability Management (ABVM).
Frost Strategic Imperatives Behind Breach and Attack Simulation Adoption
The ubiquitous digitization of businesses, the rise in volume and frequency of nation-state cyber-attacks, and the increased attractivity of cybercrime – particularly ransomware – increased awareness and anxiety among executive management, resulted in an escalating interest for proactive measures, which translates into a rising demand for automated and continuous security testing techniques.
"BAS capabilities increasingly find application in SecOps tools such as VM, XDR, EDR, and SOAR. In response, BAS vendors either add SecOps capabilities or integrate with SecOps tools to enable a smooth remediation workflow."
Swetha Krishnamoorthi, Frost & Sullivan Senior Analyst
BAS is the core capability of the Cymulate Exposure Management and Security Validation platform and provides a comprehensive set of attack emulation operationalizing MITRE ATT&CK Tactics, Techniques, and Procedures (TTPs) across the entire kill-chain, including daily updated Immediate Threat Intelligence. It is also the only security validation solution enabling end-to-end and segmented attack simulations in a production environment. This verifies resilience against hostile progression within a breached environment, chaining each step of the attack path or focusing on specific segments individually. Cymulate's unique segmented approach accelerates remediation validation as developers can immediately assess their remediation efficacy.
Frost Perspective on Cymulate
"In an emerging market such as the Global BAS market, a strong innovation focus aligned with customer pain points helps vendors to sustain growth momentum in the long term. Cymulate ticks all the right boxes when it comes to innovation."
Frost Radar ™ Breach and Attack Simulation 2022
Cymulate's leading position as an innovator in Frost Radar report recognizes its pioneering response to  customers existing and emerging needs that:
Unify security validation across environments and networks
Identify security gaps in context across end-to-end attack paths and in selected segments as required
Prioritize and accelerate remediation with actionable guidance including off-the-shelf Sigma rules
Rationalize and optimize SIEM and SOAR: the granular data generated through attack emulation provides unequaled visibility into SIEM and SOAR solutions' individual performance enabling:

The elimination of redundant or overlapping capabilities and solutions
The fine-tuning of solutions configuration to match in-context risk levels
The granular identification of missing capabilities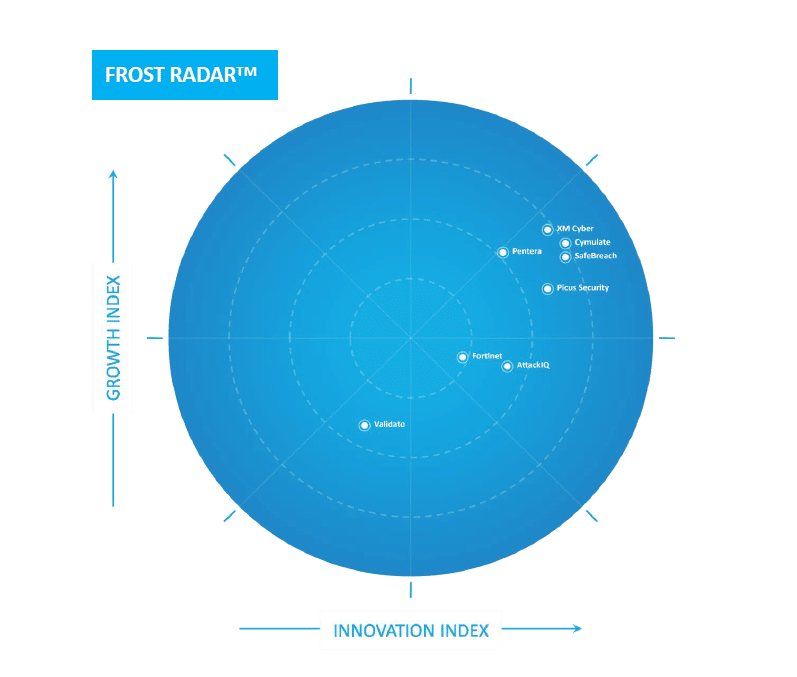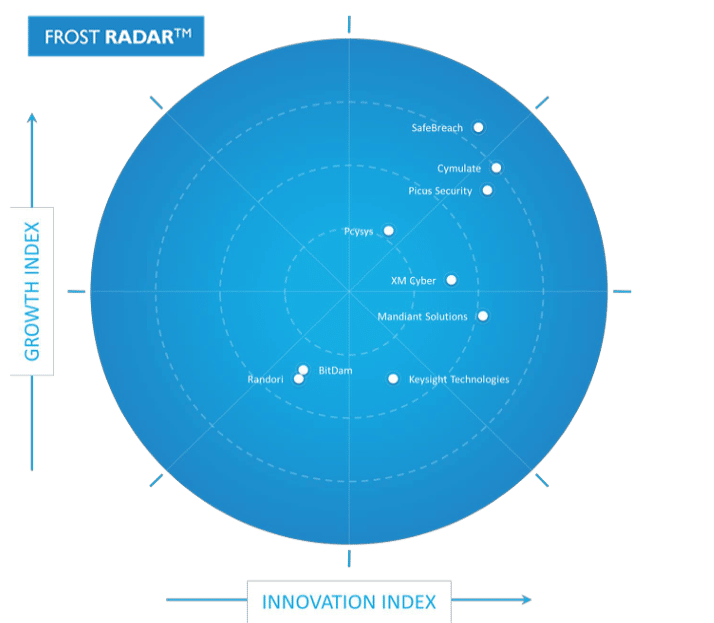 Listed on Frost Radar™ since 2020, Cymulate continued to maintain its leading position in innovation and its position on the growth index. The growth index aligns with the company's 100% growth year over year in 2021 and its customer base, which has grown above 500 enterprise, midmarket, and government customers. The number of Frost Radar™ BAS providers has thinned from 9 to 8 since 2020, with only 5 maintaining their presence. Of those, only two as fully independent. From a growth index perspective, Cymulate's entirely organic growth is close to XM Cyber, which benefitted from a significant boost due to its acquisition by German retail and cloud computing company Schwarz Group.
The full report on Cymulate can be read here: