Generally, readers on this blog see me writing posts around plain English definitions of cybersecurity terms. As an employee of Cymulate, however, occasionally, I get to speak on topics that can bring new terms and ideas to life for our customers and partners as well.
The debut of Dynamic Reports and the expansion of Dynamic Dashboards feature definitely qualify, as it makes co-managing/fully managing Cymulate for customers as an MSSP significantly easier. Let's have a look at these two feature sets and dive a bit deeper into the world of making results easier to find and increasing the impact on your MSSP teams and your customers.
Dynamic Dashboards
Starting at the beginning, let's talk about visualizing the results across the Cymulate platform in a way that you and your customers can quickly and easily grasp for better decision-making.
A relatively new feature in the Cymulate platform, Dynamic Dashboards debuted earlier this year. Cymulate's default dashboard is very well known by customers and partners and has evolved to be easier to use and provide comprehensive information at-a-glance. As Cymulate popularity with MSSPs increased, it became apparent that flexibility in selecting relevant data for the reports was an essential requirement for their day-to-day operations. Providing users and MSSPs with the ability to create and manage multiple custom dashboards quickly became a target feature request, leading to the unveiling of Dynamic Dashboards in spring 2022. Today, Dynamic Dashboards' flexible, customizable system permits users to populate new dashboards with "widgets" – custom objects that can be modified as needed to display specific data points in multiple visualization formats.
For those lacking time to customize dashboards, Cymulate created several ready-to-use dashboards, including the popular Drift Detection Dashboard (Fig 1.) that shows trends in security compliance and efficacy over time.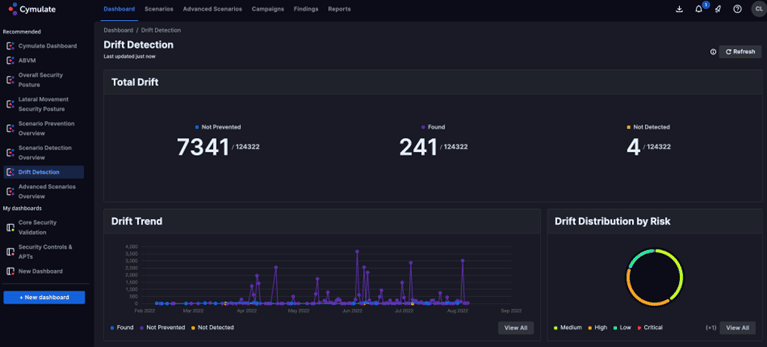 While the native dashboards added to the platform were very well-received, Cymulate knew that just creating more pre-built dashboards wouldn't be enough, so it rapidly built the necessary controls and objects to enable anyone to quickly and easily design new dashboards. For an MSSP, this was a vital platform extension that allowed them to quickly and accurately present the data their employees and customers needed to see.
Using the New Dashboard and Edit Dashboard feature sets (Fig 2.), the platform allows for nearly infinite configuration of Dynamic Dashboards. Now customers and staffers can visualize any data within the Cymulate platform and their own controlled tenancies, with few limits.
Mixing and matching different widgets and components with filters and dimensions (scopes) allows for creating highly customized dashboards that automatically update with the latest information produced by Cymulate assessments. This means that a co-managed customer of an MSSP can see critical information in a format that is easy to digest and always up to date.
Dynamic Reporting
Once MSSPs had access to custom Dynamic Dashboards so that customers who have access to the Cymulate platform could see data as needed, the next logical step was to create the ability for MSSPs to build custom reports for offline use. This is critical to the work of many MSSPs because when MSSPs fully manage all aspects of security controls and efficacy testing on behalf of their customers, they typically opt to
regularly update their customers through reports.
While Cymulate has always offered robust offline reporting in multiple formats and at multiple levels of technical detail, MSSPs often requested the ability to custom-tailor such reports for their specific needs. Dynamic Reporting provides this exact functionality, giving MSSPs the ability to produce fully branded, fully customized reporting on demand.
For example, Cymulate provides out-of-the-box Executive Reports for every assessment run, but an MSSP may wish to combine the results of multiple assessments into a single report – readable and at the right level of detail for a business decision maker to ingest and understand quickly and easily.
For example, let's postulate an MSSP that needs to provide a customer with a weekly report outlining the high-level details of assessments run within that customer's end-user environment. You begin with a blank report template, onto which you can place text, images, and widgets – similar to Dynamic Dashboards – through a straightforward editor interface built directly into the Reports area of the Cymulate Platform (Fig 3).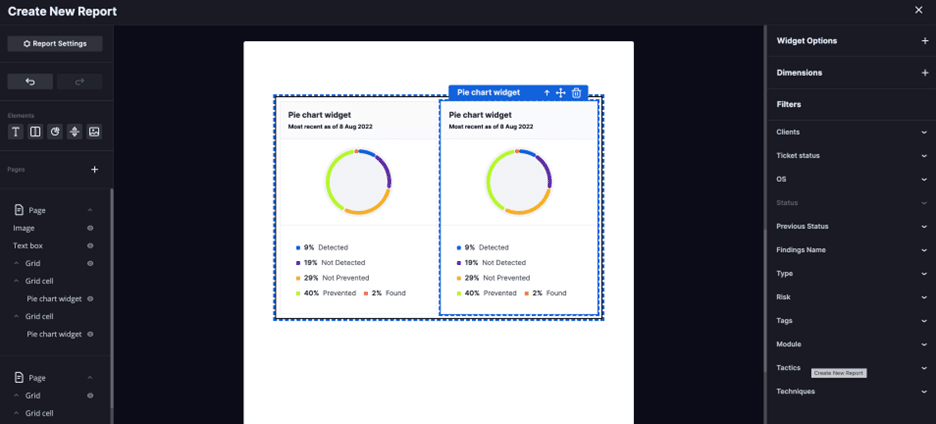 Figure 3 Dynamic Report Builder
This system permits an MSSP to create reusable reports that show exactly what they want to each customer, with the ability to scope, filter, and remix data as necessary. Reports can then be emailed or exported as a PDF for delivery through the same communications channels that the MSSP would typically use to keep customers updated.
The results are easy to read and in PDF format for maximum compatibility (Fig 4).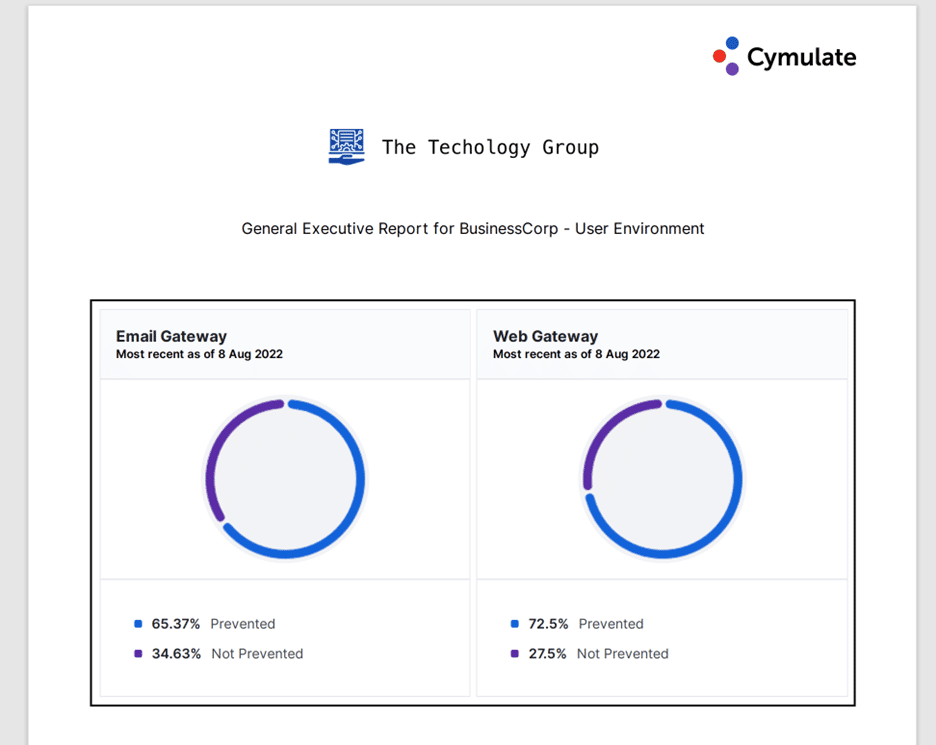 Executive-level reporting is just one of the multiple potential uses of the Dynamic Reports feature-set. Highly detailed technical reports, target reports on specific areas, and many other options are easily configured as needed.
Not just reporting
Of course, Dynamic Dashboards and Reports are – while critical – not the only way an MSSP can get information out of the Cymulate system for their own use and customer use. With a robust API as a native component of the Cymulate platform, MSSPs that prefer to use their proprietary systems to manage and report on assessments are free to do so as they see fit.
Dynamic Dashboards, Dynamic Reports, and the Cymulate API allow MSSPs to manage Cymulate across hundreds of customers simply and easily. This frees up resources to perform more manual forms of testing (such as human-driven Penetration Testing), assist customers with questions and configurations, and get on with the business of cybersecurity without getting bogged down in managing visualizations and reporting.
See it for yourself. Click here for a 14-day free trial: