As the cost and frequency of data breaches continue to rise, cyber security strategies are shifting from traditional detection and prevention to the more holistic approach of exposure management that integrates attack surface management and security validation. 
Data breaches continue to plague organizations globally, with the average cost reaching $9.48 million in the United States according to the IBM 2023 Cost of a Data Breach report. This represents an increase of 15% over the past three years, highlighting the growing cyber threats and the failure of traditional detection and prevention.  
To counter this threat, security teams frequently turn to security validation that tests controls to ensure they provide the prevention and detection of evolving threats. Thanks to technologies like breach and attack simulation (BAS) and automated red teaming, security validation and testing can now be automated so that organizations can continuously evaluate the resiliency of their environments. 
However, knowing what environments require testing can be another challenge in itself. That is where attack surface management comes in to continuously identify, monitor, and manage all internal and external internet-connected assets for potential attack vectors and exposures. 
This combination of attack surface management and security validation provides the foundation of exposure management with its approach to identify, assess, and address potential vulnerabilities and risks before they can be exploited by adversaries. 
The Role of ASM in Exposure Management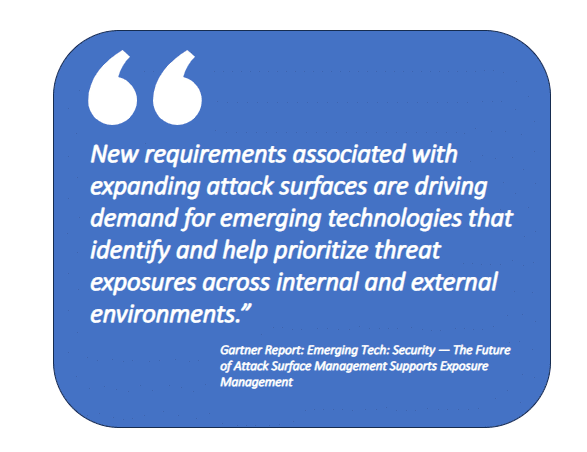 According to Gartner, "New requirements associated with expanding attack surfaces are driving demand for emerging technologies that identify and help prioritize threat exposures across internal and external environments." Attack Surface Management (ASM) solutions can provide invaluable visibility into an organization's digital footprint and potential vulnerabilities. 
However, ASM should evolve from siloed discovery projects into a capability that supports ongoing exposure management. The first step is incorporating ASM assessments and results into a continuous threat exposure management (CTEM) program. More advanced integration of ASM and security validation can yield even greater insights into exposures by putting vulnerabilities into the context of real-world attack feasibility.  
Gartner predicts that ASM tools will "evolve to support cybersecurity validation practices" by improving security effectiveness and consistency. ASM can identify vulnerabilities and map potential attack paths, while validation determines the extent exposures can be exploited and how well controls detect and respond. Together, ASM and validation provide a realistic view of the full attack surface and rigorously testing prevention and detection capabilities. 
How Cymulate ASM Supports Security Validation 
The Cymulate exposure management and security validation platform is leading this predicted evolutionary trend. The Cymulate platform includes both attack simulation for security validation and ASM. The Cymulate ASM solution is designed to close gaps between traditional ASM, typically focused on the external attack surface, and the limitations of vulnerability management. It discovers vulnerabilities and misconfigurations across external and internal environments to provide comprehensive visibility into accessible systems and resulting security gaps.  

For external assets, Cymulate ASM emulates threat actor methods to map the attack surface and identify internet-facing assets, vulnerabilities, and potential MITRE ATT&CK techniques that could be leveraged. Internally, it catalogs on-prem and cloud assets, analyzes relationships between them, and highlights exploitable vulnerabilities. 
Unified attack path mapping visualizes connections between assets and scores risk levels to clearly demonstrate viable paths an attacker could span. This contextual analysis enables precise prioritization of remediation efforts on gaps that lead to critical systems and data.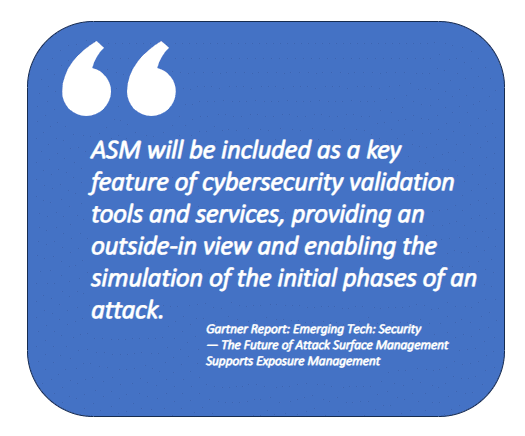 In addition, Cymulate ASM integrates with solutions like the Cymulate Breach and Attack Simulation and Continuous Automated Red Teaming tools. This enables continuous validation of controls and responses after exposures have been identified. Taken together, the Cymulate integrated platform provides end-to-end support for exposure management programs from unified ASM through validation. 
As Gartner notes, leading ASM solutions will evolve to become "a key feature of cybersecurity validation tools" by assessing both external and internal exposure and enabling interior attack simulation. With its robust discovery capabilities and integration with a comprehensive array of validation tools, Cymulate ASM empowers organizations to continuously test controls and determine where exposures could lead to real-world breaches. 
This integrated perspective is essential, as even the most rigorous ASM means little if organizations lack the context of how vulnerabilities could impact them once exploited. With data breach costs continuing to rise, companies need solutions like Cymulate that combine ASM and validation to proactively identify risks, confirm their severity, and strengthen defenses. Testing assumptions is the only way to truly gauge security effectiveness—and an approach that merges ASM and validation provides the most complete view of the potential avenues of attack.