SIEM, SOC &
Incident Response
Optimization​
Continuous, automated validation of SIEM and​ SOAR efficacy –
IR preparation acceleration ​
Overview
SOC and SIEM Validation​
Security Operations Centers are using a variety of security solutions and are facing challenges detecting
and responding to all events. Even with SIEM, the aggregated data must be analyzed in context to
prioritize mitigation efforts. Moreover, some events go undetected despite the SIEM. ​
IR Optimization​
SOAR playbooks and Incident Response routines need to be flexible to adapt to emerging threats. They
also need to be customized to specific environments. Simulating tabletop exercises is a necessary
practice to refine those playbooks and routines. Simulated attacks are an essential part of a preemptive
cybersecurity strategy. ​
Whether optimizing SIEM operations or running tabletop exercises, Cymulate provides a scalable
solution for testing and tuning the efficacy of security controls, validating processes, and identifying gaps.
`
SIEM, SOC & IR Optimization Challenges​
Challenges for Security Operations and ​Incident Response Teams​
Insufficient SOC Visibility
Insufficient SOC Visibility
SOC teams lack data the data required to ensure their security tools are accurately detecting attacks
Alert Fatigue Risk
Alert Fatigue Risk
The large number of security controls, some inadequately configured, increase the number of false positives, leading to alert fatigue​
Continuous IR Adaptation
Continuous IR Adaptation
A constantly evolving threat landscape and continual deployments require frequent reconfigurations and IR playbook updates​
Inefficient SIEM Configuration
Inefficient SIEM Configuration
Configuring a SIEM is complex, and findings often lack context for prioritizing incident response
Cymulate for SIEM, SOC
and IR Optimization​
Production-safe attack simulations assess the efficacy of the SIEM,
SOC and overall detection and response. Organizations use
Cymulate platform to validate their processes and identify security
gaps. The ability to prioritize and remediate with context, results in
improved security and a reduced number of false alerts. ​
In addition, the platform can be leveraged for running up-to-date
incident response tabletop exercises at will. With minimal to no
interference with daily operations, security teams can continuously
tune their playbooks. ​
​
Capabilities of SIEM, SOC, and IR Optimization​
The Benefits Of Cymulate SIEM, SOC & IR Optimization

Discover
Identify assets which may
come under audit​
Test
Validate discoveries against MITRE, NIST, and other frameworks​

Document
Reporting to facilitate communication with auditors and regulators​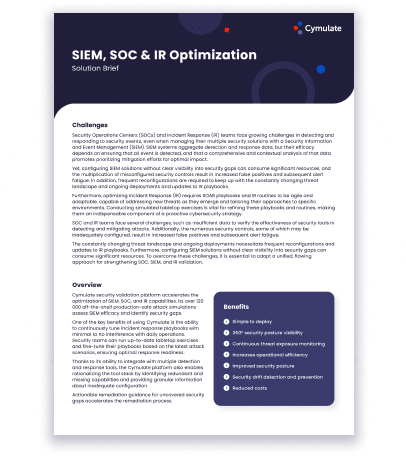 Learn More About Cymulate
SIEM, SOC and IR Optimization
Overview of SIEM, SOC and IR Optimization​
Read the Document
Backed By the Industry
In Security it's almost impossible to estimate a Return of Investment or even a cost-saving number, but it's crystal clear that we have optimized our resources by using Cymulate.
Daniel Puente, CISO of Wolter Kluwer​
Trusted by Security
Teams Across the Globe
Organizations use Cymulate to get immediate
actionable insights on their security posture.
They choose Cymulate to manage, know,
and control their dynamic environment.
The GARTNER PEER INSIGHTS Logo is a trademark and service mark of Gartner, Inc. and/or its affiliates and is used herein with permission. All rights reserved. Gartner Peer Insights reviews constitute the subjective opinions of individual end users based on their own experiences and do not represent the views of Gartner or its affiliates.
Related Resources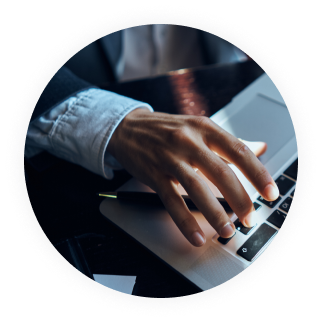 video
What Is Cymulate SIEM Validation
In this video you'll be able to learn what is SIEM Validation and how it can help security teams in your organization.
Watch Now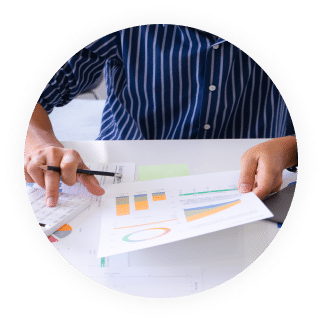 infographic
Improving Effectiveness and Job Satisfaction
According to Tines's Voice of SOC Analyst Report, 71% of the surveys experienced some sort of burnout.
Read More
case study
Elara Caring Optimize Their SOC and SIEM Vendors
Discover how Cymulate brings confidence through continuous security validation to Elara Caring easily and quickly.
Read More