Cymulate
Exposure Analytics
Ingest and correlate data from vulnerability management,
security validation and other data sources to baseline
and optimize cyber resilience.​
Collect and Analyze Data from Across the IT and Security Infrastructure
Cymulate Exposure Analytics collects and analyzes data from across the IT and security infrastructure to
measure and communicate cyber resilience as part of exposure management programs.​
Focus on the Greatest Risks​
Identify and prioritize risk exposure with business context, attack surface assessment, and control validation for breach feasibility
Forecast mitigation outcomes with simulation modeling​
Accelerate Mitigation​
Mobilize teams to action with clearer understanding of a vulnerability's operational and business impact ​
Guide teams to action with actionable guidance and integrations with SecOps and service management​
Baseline Cyber Resilience
Measure, track, and visualize risk posture of business systems and security tools​
Build risk metrics and performance tracking for CTEM program scoping and mobilization​
Measure Cyber Resilience as Part of Threat Exposure Management​
Correlated Analysis​
Full view of attack surface, assets, vulnerabilities, and business impact​

Risk Quantification​
Measure risk based on business impact, control efficacy, and breach feasibility ​

Prioritization
Identify mitigations that address biggest risk and drive cyber resilience improvements ​

Simulation Modeling​
Forecast mitigation outcomes and impact on cyber resilience and risk​
How it Works
Continuous Threat Exposure Management​
Centralize intelligence and visibility to security posture with business
context essential to an exposure management program
Measure & Baseline
Cyber Resilience​
Quantify risk based on attack surface, business impact,
control efficacy, and breach feasibility – as well as
external data such as CVSS scores and threat intel ​
Profile Assets for Risk and Business Context​
Ingest and contextualize data from disparate data sources
to create a consolidated view of assets with context to their
risk with per asset inventory of:
Existing security controls​
Current enforced policies ​
Known vulnerabilities
Un-patchable vulnerabilities or security gaps​
Mitigation status ​
Focus on Greatest Risk
And Mobilize Mitigations
With Clear View of Impact​
Prioritize mitigations that deliver the biggest reduction in
risk and improvement in cyber resilience​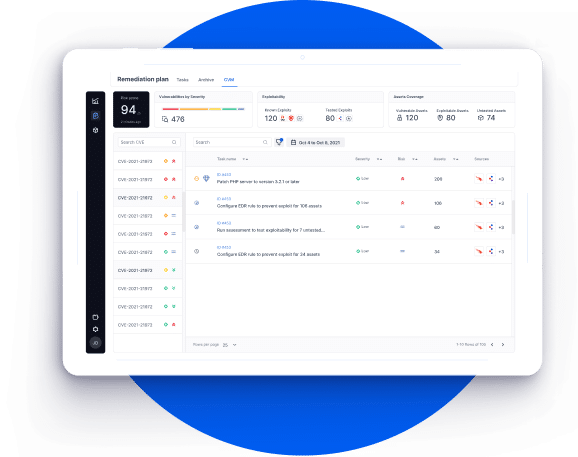 Accelerate Mitigation with
Remediation Planning
Mobilize teams to action with full understanding of a
vulnerability's operational and business impact.
Integrations
Cymulate Exposure Analytics aggregates information from across the IT and security stack to create a security
data fabric that combines an internal view of controls with an external attacker view of viable targets. ​
The Cymulate Exposure Management and Security Validation Platform ​
Cymulate Exposure Analytics is available both as a standalone SaaS offering and as an integrated offering within the Cymulate Exposure Management and Security Validation Platform. ​
Backed By the Industry

95% OF BAS Reviewers Recommend
4.8/5 Rating for Breach and Attack Simulation (BAS) Tools
Learn More

Cymulate Recognized as Top Innovation Leader
F&S recognized in their Frost Radar™️ Global BAS, 2022 report
Learn More
Jorge Ruão | Head of Security Operations, Euronext,

"As Euronext's cybersecurity team, we know that cybersecurity is always a work in progress. Cymulate allows us to fill a gap that for a long time was not closed directly, but only indirectly with other security controls. We recommend anyone looking for a breach and attack simulation platform turn to Cymulate."
Avi Branch | IT Support Technician,
Brinks
"I believe that no matter what is the team size we have, we will always have a backlog of projects and tasks. Cymulate helps us to prioritize them and focus on issues that carry the most risk for the business, this has increased our effectiveness, we aren't wasting valuable resources. Furthermore, I can present to our executives a return on security investments by showing them how each project has reduced our risk score."
Karl Ward | Lead Security Operations Analyst, Quilter,

"Many times, our CISO or senior members would come to security operations after reading about a new threat or APT group in the news, asking are we at risk? Cymulate enables us to answer quickly and confidently with the Immediate Threats module and attack simulations."
More Customer Stories
Related Resources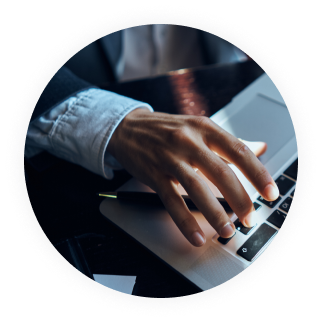 Data Sheet
Cymulate Exposure Analytics​
Drive Continuous Threat Exposure Management with Insights and Data from across IT and Security Architecture​
Read More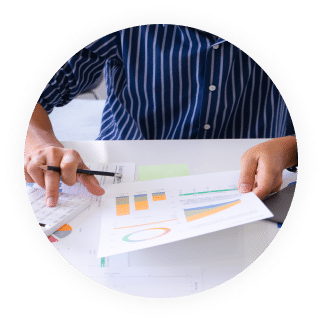 Reort
Gartner® Report Top Strategic Technology Trends for 2024: Continuous Threat Exposure Management
Learn about CTEM, an umbrella program for a foward-looking and sustainable approach to exposure reduction.
Read More
Webinar
Getting Business Context into Exposure Management Programs
Finding a common language to communicate cyber risk in this expert webinar.
Watch Now