Compliance
Solution Validation
Continuous assessments turn compliance​
audits into a straightforward operation​
Compliance Solution Validation ​Overview​
Compliance requirements constantly become more stringent and complex. Businesses are expected to adhere to a myriad of regulations, industry standards, and best practices. Keeping up with these compliance requirements is a daunting challenge for organizations of all sizes and industries. Failure to comply can lead to legal and financial consequences; as well as damage to the organization's reputation with shareholders, customers, regulators, and the general public. ​
The Cymulate platform provides visibility on cybersecurity compliance to both technical and non-technical stake-holders.​ Many customers use information derived from Cymulate reporting to substantiate adherence to compliance, risk profiles, and frameworks like NIST and MITRE.
`
Compliance & ​Assurance Challenges​​
Preparing for compliance audits requires thorough​ scoping and planning, adequate documentation,​ and overcoming communication barriers.​​
Limited Resources
Limited Resources
Compliance audit preparation is resource intensive and time consuming
Changing Regulations
Changing Regulations
​Existing regulations change over time, and new regulations are created regularly​​
Business Objections
Business Objections
Business operations may not align directly with cybersecurity requirements​​
Outdated Information
Outdated Information
Point in time Pen Tests doesn't meet resilience requirements ​
Financial Impact
Financial Impact
Non-compliance can lead to business, legal, and financial penalties​​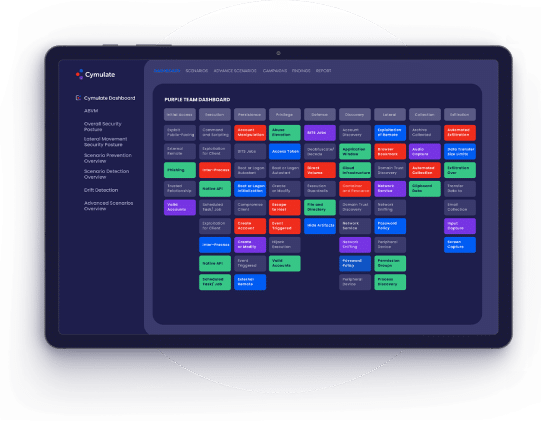 How Cymulate Streamlines
Compliance Processes
With the ongoing regulatory shift from periodic audits toward
cyber-resilience; cybersecurity compliance management can
benefit from continuous validation and comprehensive reporting.​​
Attack surface management paired with continuous attack
simulations and immediate threat validation facilitate
compliance with updated regulatory and industry standards.
Cymulate reports show the efficacy of preventative measures
taken to improve security posture and to demonstrate
continuous efforts for detecting and remediating security gaps.​
This automated documentation facilitates communication with
compliance officers, auditors, and other stakeholders.​
Continuous improvement to security not only facilitates
compliance, but also enhances and proves cybersecurity resilience. ​
Compliance Management with Cymulate​
Compliance Solution Validation Benefits

Discover
Identify assets which may ​come
under audit​ and unmanaged
applications and systems

Test
Validate discoveries against MITRE, NIST, and other frameworks safely and frequently

Document​
Leverage automated technical and executive reporting for stakeholders and auditors​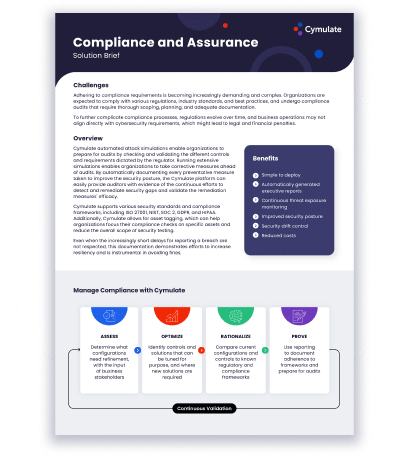 Learn More About Cymulate
Compliance Solution Validation
Read more about Cymulate Compliance and Assurance solution.
Read the Document
Backed By the Industry
In Security it's almost impossible to estimate a Return of Investment or even a cost-saving number, but it's crystal clear that we have optimized our resources by using Cymulate.​​
Daniel Puente, CISO of Wolter Kluwer​
Trusted by Security
Teams Across the Globe
Organizations use Cymulate to get immediate
actionable insights on their security posture.
They choose Cymulate to manage, know,
and control their dynamic environment.
The GARTNER PEER INSIGHTS Logo is a trademark and service mark of Gartner, Inc. and/or its affiliates and is used herein with permission. All rights reserved. Gartner Peer Insights reviews constitute the subjective opinions of individual end users based on their own experiences and do not represent the views of Gartner or its affiliates.
Compliance Solution Validation Resources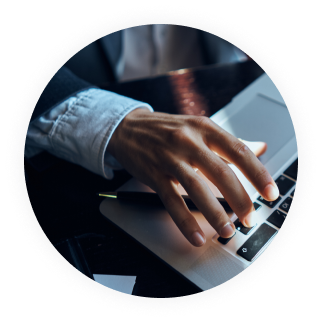 SOLUTION BRIEF
Complying NIST 800-53 Revision 5 With SPM
The Security Posture Management approach is particularly well suited to streamline compliance with the new NIST standards.
Read More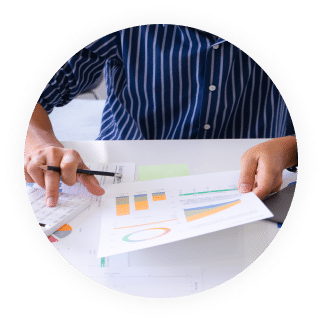 VIDEO
Cymulate PCI and ISO 27001 Compliance
To help organizations with their compliance, they now have in one place the Cymulate security testing and validation reports.
Watch Now
CASE STUDY
Prevision Mallorquina Case Study
Cymulate helped Prevision Mallorquina accomplish its goal of scaling its security team operation, minimizing risks and much more.
Read More