Solutions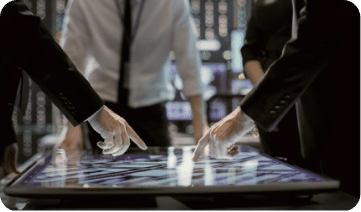 Challenge
Email security controls that prevent ransomware, worms, trojans and other email borne attacks by launching thousands of crafted email attacks with malicious attachments and links.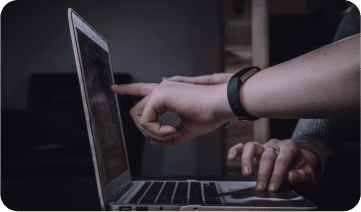 Assess
Email security and policy enforcement, including allowed file types and true file detection.
Optimize
Email security controls that block or remove malicious links and attachments including Email G/W, Content Disarm and Reconstruction (CDR), Sandboxing and other email security technologies.
Benefits
Validate the effectiveness of
your email security controls against
threat evolutions and stop attacks in
the pre-exploitation stage.
Track email-security effectiveness over time and prevent security drift
Find, prioritize, and fix security gaps against an exhaustive and continuously updated library of attacks
Fine tune email security policies to block non-essential and abuseable file types
Benchmark your email security performance against industry peers
Safe to run in production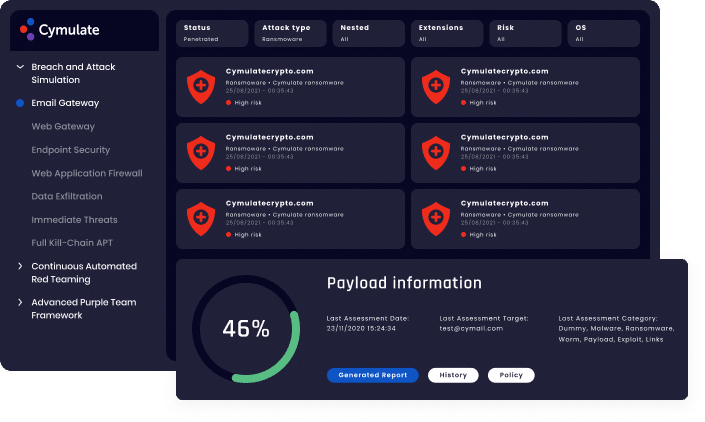 Email Gateway Vector
Email is the most frequently used method of attack for exploiting security weaknesses and compromising corporate environments. Research shows that over 75% of cyberattacks worldwide originate from a malicious email, and the number of those targeted attacks keep increasing. As we have seen in the past, both very high-profile cyber campaigns as well as less known ones, are launched with an email containing a malicious attachment or link for infecting victims with ransomware or opening a direct connection to the Command & Control (C&C) servers of hackers.

For example, a recurring DHL themed phishing template used during the holiday season spreads different malicious payloads such as Tesla, Panda, Ursnif etc. One recent example of this method used a DHL themed shipment invoice sent by email, notifying its victims that there is a new shipment waiting for them. Victims that click on the link or open attachments download a dropper that links to the attacker's C&C server downloading malware to the victim's endpoint, thus compromising it, and in some cases even compromising the whole organization.

Organizations utilize different security controls, such as Secure Email Gateways (SEGs), Sandbox, and Content Disarm and Reconstruction (CDR) solutions to protect their employees' mailboxes. However, their incorrect configuration or implementation can lead to the false assumption that an organization is safe.

Cymulate's Email Gateway vector evaluates your organization's email security and potential exposure to malicious payloads and links sent by email.
Reveal malicious email constructs trying to bypass your organizations' first line of defense and reach your employees' inbox.
Validate email security policies and protections against email spoofing, by sending thousands of emails with attachments containing ransomware, worms, Trojans, or links to malicious websites.
Tests employees' ability to recognize socially engineered emails that try to lure them into opening malicious attachments, disclosing their credentials, or clicking on malicious links.
Technical reports and risk scores enables IT and security teams to identify security gaps, prioritize mitigations and take corrective measures to increase email security control efficacy. Executive reports identify security drift and compare results vs. industry benchmarks.
More Attack Vectors and Modules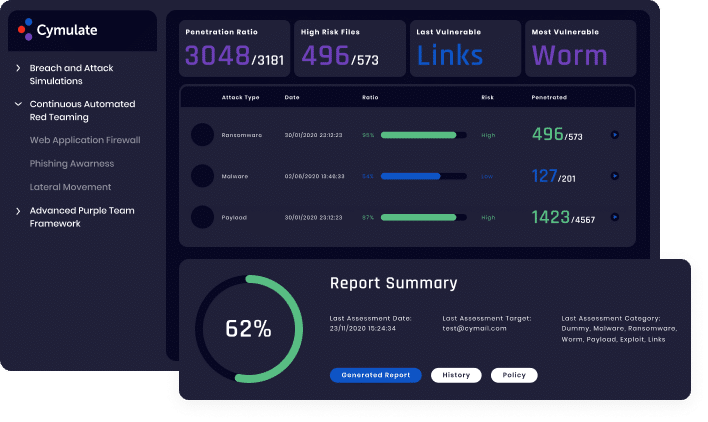 Check Your Security
Posture Now
*Minutes to set up
*No credit card required
Free Trial